Guardian G1814P Eyewash, Wall Mounted, Plastic Bowl
Product Description
The Guardian Equipment G1814P features a rugged ABS plastic bowl in your choice of orange, green, or yellow. Similar models are the G1814 which is identical except it comes with a stainless steel bowl and the G1750 which features two FS-Plus™ spray heads for complete rinsing of the eyes and face. For an all-stainlesss wall-mount model see the G1891.
Features
Options

Application: Eyewash for wall mounting. Two GS-Plus™ spray-type spray heads deliver a flood of water for rinsing eyes.

Spray Head Assembly: Two GS-Plus™ spray heads. Each head has a "flip top" dust cover, internal flow control and filter to remove impurities from the water flow.

Valve: 1/2" IPS chrome plated brass stay-open ball valve. Valve is US-made with chrome plated brass ball and Teflon® seals.

Bowl: 11-3/4" diameter orange ABS plastic.

Mounting: Heavy duty cast aluminum wall bracket with corrosion resistant powder coated finish.

Supply: 1/2" NPT female inlet.

Waste: 1-1/4" NPT female outlet.

Sign: ANSI-compliant identification sign, item # 250-007G.

Quality Assurance: Unit is completely assembled and water tested prior to shipment.

GRN Green ABS plastic bowl.

HS Auxiliary hand-held drench hose for rinsing eyes, face or body.

T Chrome plated brass tailpiece and trap with 1 1/2" IPS waste connection.

TP 1 1/2" OD chrome plated brass tailpiece.

YEL Yellow ABS plastic bowl.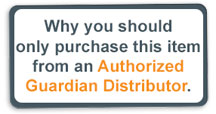 Documentation available: G1814P specification sheet w/ measured drawings, parts list, and written specifications (Word format).
Common replacement parts: 470-004R filters (inspect regularly and change as needed), AP470-001 replacement GS-Plus spray head, 150-014E-2 cast aluminum waste receptor.
All Guardian items are manufactured in the USA. This item ships in a box approximately 14" x 14" x 12" (35.6 x 35.6 x 30.5 cm) weighing approximately 7 pounds (3.2 kg).
Warranty Information
2-year limited manufacturer warranty.
Find Similar Products by Category