Guardian G1540BA-R Aquasep Preservative for Portable Eyewash Stations, 4 Bottle Case
NIOSH-Approved N95/N99 Masks for about $1 Get them now!
Product Description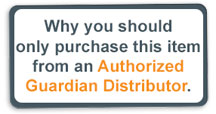 Guardian Equipment's G1540BA Aquasep bacteriostatic additive protects against the growth of bacteria, fungus, algae, and acanthamoeba and is for use in any Guardian portable eyewash unit including the G1540 and G1562 models. Each 8 oz (237 mL) bottle protects up to 20 gallons. Sold 4 bottles per case only. If you order quantity 1, you will receive 4 bottles.
Eye wash stations should be flushed weekly with a 15 second flush to ensure proper operation. The small amount of test water used each week can be replaced with clean potable water without having to add more Aquasep. After 6 months the eyewash unit should be completely emptied and recharged with fresh water and Aquasep. Aquasep itself has a 2-3 year shelf life so we don't recommend buying this in large quantities unless, of course, you have a lot of portable units or turn the water over frequently!
The Safety Data Sheet for this material is available as a PDF file.
Cross-reference: this item is equivalent to the WaterSaver Faucet Company's EW540BA.
This item ships in a box measuring approximately 5" x 5" x 8" (13 x 13 x 20 cm) weighing approximately 2.6 lb (1.2 kg).
Warranty Information
2-year limited manufacturer warranty.
Find Similar Products by Category